Babyshower karaoke


Met een karaoke-machine en wat creatieve ideeën kun je een babyshower karaoke doen. Dus wil je het wat gekker maken op babyshower, dan moet je vooral die gezellige spel implementeren.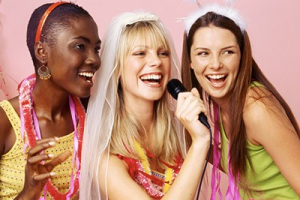 Hoe werk 'Babyshower karaoke'?
De babyshower karaoke kun je op verschillende manieren aanpakken;
De estafette – alles wat je nodig hebt om dit spel te spelen is een microfoon en een lijst met baby-gerelateerde liedjes. Je kan nummer gebruiken met woord baby in het refrein als "Ice Ice Baby" door Vanilla Ice of een lied over baby's, zoals "Isn't She Lovely 'van Stevie Wonder. De microfoon begint bij een persoon en wordt doorgegeven tijdens het lied.
Super Roulette – gebruik een automatische afspeellijst in het karaoke systeem, of zorg dat de babyshower organisator willekeurig een nummer aanzet. Programmeer een aantal baby gerelateerde nummers of Disney-liedjes en dan is het zingen geblazen! Het leuke aan deze variant is de onvoorspelbaarheid.
Maak het liedje af – Zet bekende baby nummers op en zet deze of een willekeurig moment af. Nu is het de taak aan degene met de microfoon, om het nummer (of in ieder geval de zin) af te maken.
Babyshower muziek
1. Baby-Baby-Baby – TLC
2. Chantilly Lace – Big Bopper ("Hello, baaby!")
3. Baby Baby – Amy Grant
4. I Got You Babe – Sonny and Cher
5. Baby, It's Cold Outside – Ray Charles & Betty Carter OR Jessica Simpson & Nick Lachey
6. Babe – Styx
7. Baby Don't Get Hooked On Me – Mac Davis
8. Isn't She Lovely? – Stevie Wonder
9. Hey Baby – Bruce Chantell
10. Naughty Lady of Shady Lane – Ames Brothers
11. Baby, It's You – Shirelles
12. Hanky Panky – Tommy James ("My Baby does the Hanky Panky ")
13. Baby Love – Supremes
14. Can't Get Enough Of Your Love Babe – Barry White
15. Baby Come Back – Player
16. Ooh Baby Baby – Miracles OR Lind Ronstadt
17. Baby I'm-A Want You – Bread
18. Be-Bop-A-Lula – Gene Vincent ("Be-bop-a-lula, she's my baby")
19. Baby I Need Your Lovin – Four Tops
20. Jump Jive An' Wail – Brian Setzer Orchestra ("baby Bay It Looks Like It's Gonna Hail")
21. Hey Baby – No Doubt
22. Rockin' Roll Baby – Stylistics
23. Baby Boy – Beyonce
24. Touch Me – the Doors ("C'mon, C'mon, C'mon, Touch Me Baby")
25. You're Having My Baby – Paul Anka
26. ABC – Jackson Five ("Shake It Shake It Baby")
27. Baby Makes Her Blue Jeans Talk – Dr. Hook
28. Twist and Shout – Beatles ("Shake It Up Baby")
29. Baby, I'm Yours – Barbara Lewis
30. It Ain't Me Babe – Turtles
31. Baby Workout – Jackie Wilson
32. Papa Don't Preach – Madonna ("I'm Keeping My Baby")
33. …Baby One More Time – Britney Spears
34. Roll With It – Steve Winwood ("Roll With It Baby")
35. Baby, What A Big Surprise – Chicago
36. Don't Say Nothin' (Bad About My Baby) – Cookies
37. Baby, Come To Me – Denise Austin and James Ingram
38. Give It To Me Baby – Rick James
39. Don't Worry Baby – Beach Boys
40. Take Good Care of My Baby – Bobby Vee
41. There Goes My Baby – Drifters
42. Be My Baby – Ronettes
43. Baby Hold On – Eddie Money
44. Cry Like A Baby – Box Tops
45. Baby Elephant Walk – Henry Mancini
46. Oh Babe, What Would You Say? – Hurrican Smith
47. Baby You're A Rich Man – Beatles
48. My Baby – Lil' Romeo
49. Always Be My Baby – Mariah Carey
50. Baby, Don't Forget My Number – Milli Vanilli